Posted by Paul de Bruin on Jan 1st 2021
New Zealand sphagnum moss is recognized worldwide as a premium product for the reptile/amphibian hobbyists, as well as the orchid growing industry. It grows naturally in the wetlands of New Zealand's South Island, also known as Te Waipounamu. The moss is renowned for being long lasting with an excellent water holding capacity (20 times its own weight in water) and has a natural PH of 4.8.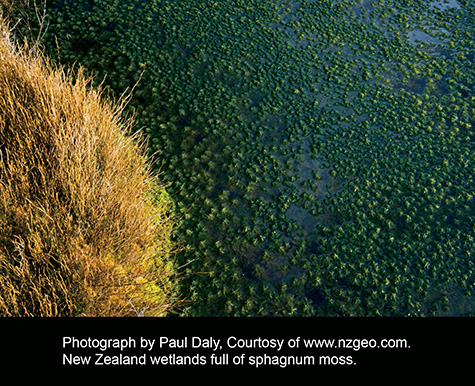 SPHAGNUM MOSS VERSES PEAT MOSS, WHAT IS THE DIFFERENCE?
Sphagnum moss and peat moss both come from the Sphagnum moss genus, so they are technically the same plant but harvested in a different form.
PEAT MOSS is dead decayed Sphagnum moss found in layers below the live moss in wetland bogs. As the generational growing cycle ends and dies off, new growth takes hold on top of the dead layer. This cycle continues indefinitely. The dead Sphagnum moss located in the lower layers is mixed with other decaying plant and insect matter, making it extremely rich in organic nutrients. In fact, the peat moss found at the bottom of bogs can be thousands of years old!
SPHAGNUM MOSS is collected while still living from the surface of bogs in wetlands. These chunks of living plant material are then dried and cleaned after each harvest, making the final product free of debris and highly water absorbent. Sphagnum moss can be purchased in compressed bales, or loose, dried, or alive.
HOW AND WHEN TO USE SPHAGNUM MOSS?
As a stand-alone product Sphagnum moss is commonly used for creating a Kokedama (a moss ball planter), as a seed starter, rooting medium for carnivorous plants, or for mounting orchids. In the reptile and amphibian hobby it is an extremely popular choice for terrarium building. It can be used to plug holes in a custom background, and mount epiphytic plants. It is also often mixed in combination with other mediums to loosen up heavy clay soils while allowing for optimum oxygenation so that the plant roots can uptake vital micronutrients and beneficial biological organisms can thrive. It also helps maintain the moister level, while still allowing adequate drainage around plant roots, keeping them from becoming waterlogged. Sphagnum moss on its own does not hold much in the way of nutrients, so it should be mixed with other medium types, such as char and peat moss.
SPHAGNUM MOSS PROPERTIES
The pH level of the soil used for your plants will play an important role in determining whether sphagnum moss or peat moss is the better choice. Certain plants prefer a soil that is more acidic, while other plants prefer a soil that has a neutral PH. Acid loving plants will do better using peat moss as a soil amendment, because peat moss is naturally acidic. On the other hand, sphagnum moss has a neutral PH and can be used to lower the soils acidic level to provide a better environment for plants that do not tolerate low PH levels.
Sphagnum cristatum moss also contains a naturally occurring antibiotic called Tropolene, used for centuries as a wound dressing for its ability to inhibit the growth of dangerous bacteria. This very property also bennefit the plants within your terrarium/vivarium.
PROCESSING SPHAGNUM MOSS
New Zealand Sphagnum cristatum moss is harvested from carefully managed, sustainable swamps. It's carefully hand-picked, naturally air dried, and cleaned through a series of both mechanical and manual techniques to ensure a maximum Water Holding Capacity (WHC) of 96%.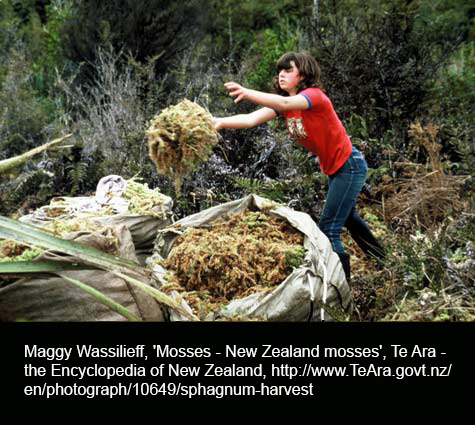 WHICH SPHAGNUM MOSS SPECIES IS RIGHT FOR ME?
There are approximately 120 species of sphagnum moss found throughout the world. The physical characteristics and intrinsic qualities (i.e. chemical properties) of these different species can vary greatly. Characteristics of sphagnum moss that are of interest to most users include color, strand length, strand strength and durability, salt accumulation and chemical properties.
One of the most important things to remember when comparing and choosing sphagnum moss is that different species grow in different regions around the globe. So it is important to understand which species are most likely to come from which regions. The table below outlines the more popular species on the market today, along with a comparative summary of their key characteristics and qualities.
EDUCATIONAL SUBJECT MATTER VIDEO'S
Harvesting Long Fiber Sphagnum Moss "OC-6 Oliver Crawler with Cab".
Sphagnum moss (Sphagnum sp.).
The Peatbog Problem - Ecosystems: The Carbon Cycle (3/3).
View more video's in the series:
How Plants Make Food - Ecosystems: The Carbon Cycle (1/3).
Recycling Carbon - Ecosystems: The Carbon Cycle (2/3).